I decided a while back to try the Body for Life method. It's a workout system that builds muscle all over your body by following a routine where you go back between reps and weight. Scientifically, they have found that this way of working out will build muscle more effectively. It really makes a difference! I have been doing weights for years and got a decent result, but now I have reached goals I didn't think were possible. For an ectomorph like myself, that is. 🙂 Somebody like me can't expect to become Arnold.
The Body for Life method really works. In short, you do 12 reps of a light weight, then 10 reps of a heavier one, then 8 and 6 and so on. Then you go back and do 12 of a heavier weight and then you do 12 of a completely different exercise within the same muscle group. Brilliant!
Bestämde mig för ett tag sedan att prova metoden Body for Life. Det är en styrketräningsmetod som bygger hela kroppen genom att följa ett system av reps och vikt. Man har vetenskapligt kommit på vad som är mest effektivt, vad som bygger mest muskler på kortast tid. Och ja, det gör verkligen skillnad. Jag har tränat med fria vikter förut och fick hyfsat resultat, men nu har jag nått mål jag inte trodde var möjliga. För en ectomorph alltså, som jag är. 🙂 Man kan liksom inte bli Arnold om ni förstår vad jag menar.
Metoden funkar alltså. I korthet går den ut på att man ska köra en lätt vikt 12 reps, sen en tyngre 10 reps, 8, 6 osv. Sen går man tillbaka och gör 12 av en tyngre vikt och sen gör man 12 av en annan övning inom samma muskelgrupp. Genialt!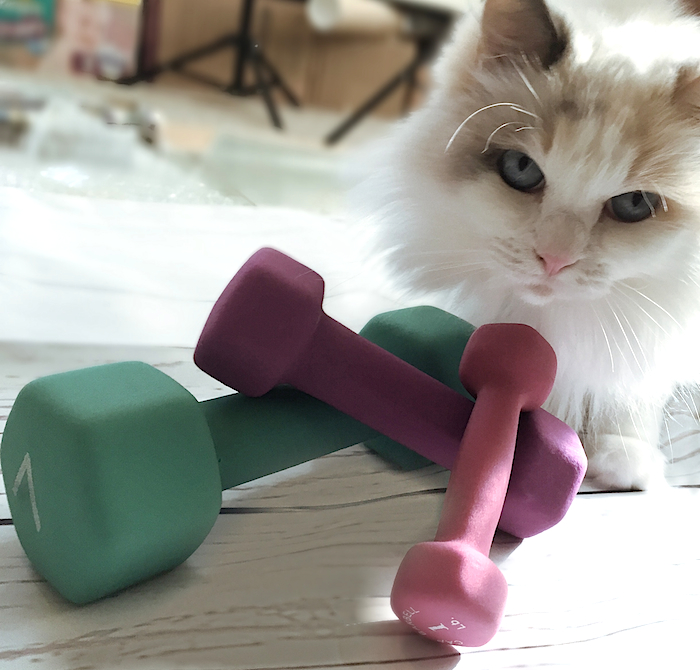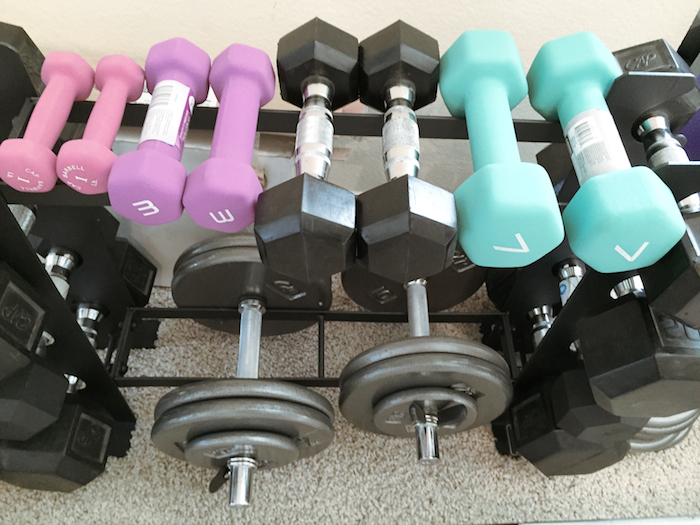 I bought a number of dumbbells in pastel colors. I think it's more fun to work out if the dumbbells are pretty. 🙂 Then you need a nice stand for them so that everything looks organized.
Here is the Body for Life book if anyone's interested. If you are trying to lose weight with this method, what I've heard is that a lot of it happens through the diet suggestions, not the actual weights. Many people have gotten great results though, just keep this in mind.
Jag köpte några hantlar i pastellfärger. Tycker det blir roligare att träna om hantlarna är snygga. 🙂 Sen ett schysst ställ till också så det ser lite proffsigt ut.
Vill även tillägga att hantlar är nästan 3 gånger så billiga här i USA! Så himla orättvist och trist för svenskar. Träning är ju så grymt bra, det ska alla kunna ha råd med tycker jag!
Här är boken Body for Life om någon är intresserad. Om ni försöker gå ner i vikt med den här metoden, så skulle jag bara vilja berätta att jag har läst att dieten som föreslås är det som gör mest skillnad, inte vikterna. Många har fått väldigt bra resultat!