I'm happy happy right now! My husband gave me a Desigual bag for my birthday. It is a Bandolera Flower Geometric Crossbody bag.
Är just nu i sjunde himlen! Fick en Desigual-väska av min käre make i födelsedagspresent. Det är en Bandolera Flower Geometric Crossbody bag.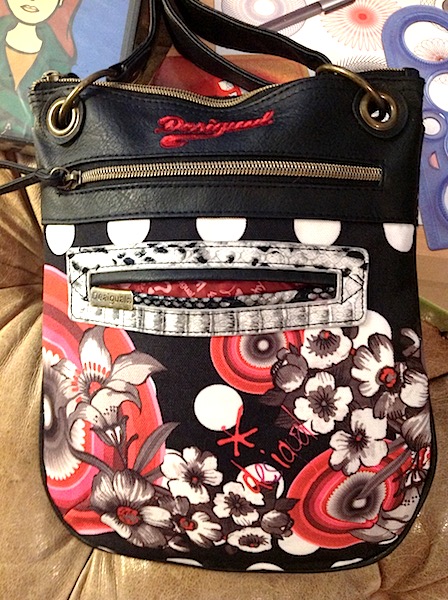 The colors are dazzling. The print looks like brush strokes on a black canvas. I found a little flower that belonged to a Clinique make-up bag that I hung on the zipper to make it more personal. The back is white polka dot with (faux) snake skin. This bag can make a black outfit really stand out.
I've always liked Spanish brand Desigual and crave a lot of their stuff. But if you don't like colors, they're not for you. 😉
Watch out for replicas on eBay. Don't buy anything directly from China, they're usually not authentic even if they look good. They might actually not even be a knock off of a real bag! 25 bucks for an unused Desigual is too good to be true. Amazon might be a better choice.
Färgerna är minst sagt bländande. Ser ut som skarpa penseldrag på svart canvas. Hittade en liten blomma som hörde till en Clinique sminkväska och hängde på den på dragkedjan. Baksidan är prickig med ormskinn (ej äkta hehe). Denna väska kan göra en hel outfit.
Jag har alltid gillat Desigual som märke och suktar jämt efter deras grejer. Tycker de är grymt underskattade i svenska modebloggar! Hur är det egentligen, är vi svenskar precis så rädda för starka färger som fördomarna säger? Eller blir vi lika tokiga över kläder som ser ut som oljemålningar som övriga världen? På Tradera brukar Desigual gå för ganska höga priser i alla fall. Se upp med eBay då det finns många kopior. Köp ingenting från Kina, det brukar inte vara äkta vara (även om ju de väskorna var rätt så snygga). 25 dollar för en äkta Desigual är för bra för att vara sant.