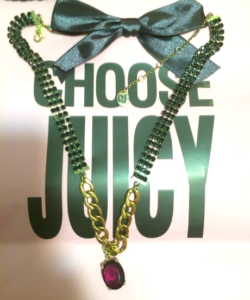 I let this super cute Juicy Couture necklace expire on eBay but then I regretted it like crazy. So I contacted the seller and she put it back up! (I've done this several times and it seems to work about 80% of the time.) Now I'm the happy owner of this new favorite, "Starlet Estate". It's a lot prettier in person with black sparkly rhinestones and kinda like a choker, close to the neck. I'm going to wear it with something simple, black or red. It was $79 new, I got it for 20 including shipping. 🙂
I like a lot of Juicy's stuff because they know how to be a little gaudy and still stylish. They have a sexy style, a little retro, loves gold, pink, black and hearts in all shapes.
Jag lät det här ursöta halsbandet från Juicy Couture utgå på eBay, men sedan ångrade jag mig som fan! Så jag kontaktade säljaren och hon la upp det igen! (Det har jag gjort flera gånger och det funkar 8 gånger av 10 ungefär.) Nu är jag lycklig ägare till denna nya favorit som heter Starlet Estate. Så himla fint i verkligheten med svarta stenar som glittrar och i choker modell så det sitter ganska nära halsen. Jag tänker bära det till något enkelt svart eller möjligen rött. Hade kostat 670 kronor nytt, jag fick det för ca 170 inklusive frakt. 🙂
Juicy Couture är ett amerikanskt märke, närmare bestämt från L.A. De är mycket billigare i USA, så kom hit nu genast och shoppa! 😉
Detta halsband är lite typiskt Juicy. Precis som Guess är de experter på att vara lite för mycket men ändå supersnygga. De har en sexig stil, lite retro, älskar guld, rosa, svart, hjärtan i olika färger och former.
De är särskilt kända för sina tracksuits och sina halsband med hjärtan. Det finns inte jättemycket Juicy på Tradera, men en del, så pröva.
This would make a good gift for Valentine's Day (but sometimes we have to buy our own gifts, hehe).
Det här kunde bli en bra Alla Hjärtans Dag-present (men ibland måste man ju köpa sina egna presenter hehe).