How do you like this trend of wearing biker/moto boots with everything? Moto boots with skirts, dresses, shorts, you name it. I think it's a fun and sassy trend with a whole lot of rock'n'roll vibe. Despite this I felt like I didn't want to go too far on the masculine style in case I would get tired of it. I was very happy to find these boots that are kinda like biker boots but at the same time are very feminine. They're super comfortable and I can wear them with almost anything.
Vad gillar ni trenden att bära MC-boots till allting? (Eller moto boots som de ofta kallas här i Staterna.) Moto boots till kjol, klänning, shorts, you name it. Jag tycker det är en kul och kaxig trend som har en hel del rockvibbar. Trots det så kände jag att jag inte ville gå för mycket åt det maskulina hållet utifall jag skulle tröttna. Så jag blev överlycklig när jag hittade de här bootsen som det är lite MC-boots stuk på men som samtidigt är väldigt feminina. Och dom är superbekväma och passar till precis allt!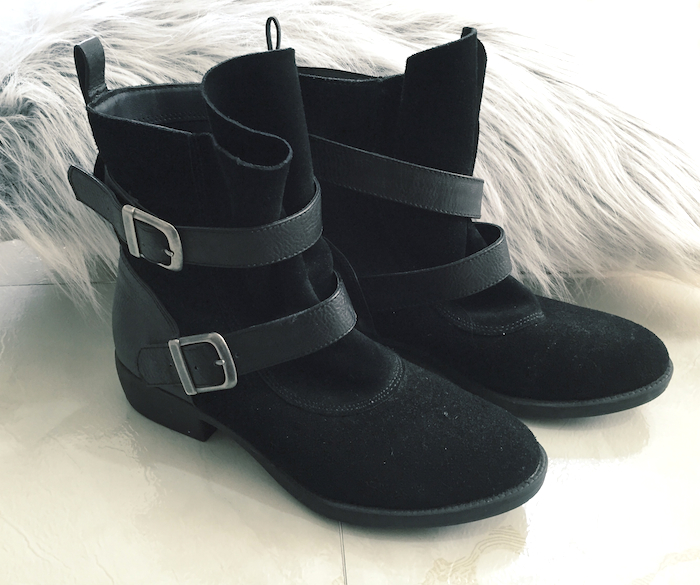 The brand is Mia and they're authentic suede boots. They were a display item so the price was reduced (thank you eBay).
Because they're not dress boots with high heels, they are great for dressing down an outfit, for example a dress. Vive la grunge! 🙂
Kommer från företaget Mia och är i äkta mocka. Det var ett utställningsexemplar jag fick tag på ganska billigt.
Eftersom det inte är några finstövletter med hög klack blir det mer som lite downdressing, casual känsla om man har dem till klänning. Vive la grunge! 🙂