Every once in a while all girls should splurge a little bit and get a pair of heels to die for. I was looking for a pair of Louboutins when instead I fell head over heels (no pun intended, I swear) for these vintage YSL shoes.
Någon gång måste alla flickor få unna sig ett par klackar att dö för. Jag var egentligen på jakt efter ett par Louboutin när jag i stället föll för de här vintage-skorna från Yves Saint Laurent.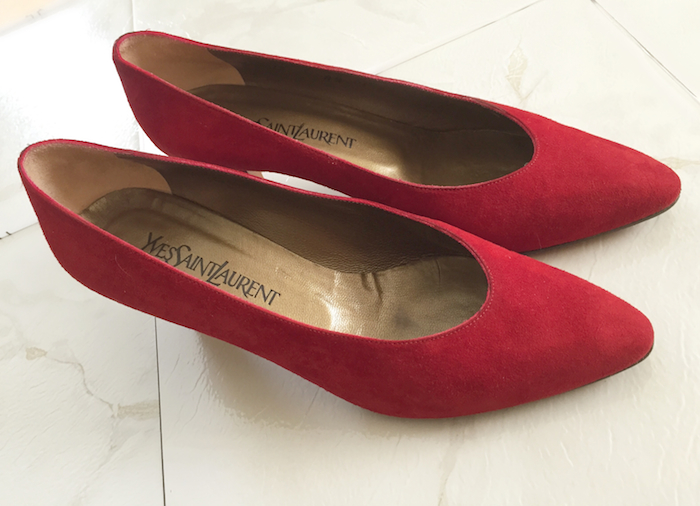 These kitten heels are made of velvet. They're so gorgeous you wouldn't believe it (much more so in person), and yet very simple. I have come to realize that I shouldn't buy any more cheap heels. Lower quality shoes tend to have a balance that's out of whack and the cheap material rubs. Higher quality shoes don't have those problems, they are actually comfortable to walk in, even the ones that have heels that are a lot higher than mine. If you can't afford them – get them preowned.  These were only $40 and some sellers on eBay offer returns in case they wouldn't fit.
Äkta sammet och kitten heel (vad heter det på svenska? Taxklack? Haha). De är så supervackra så det är inte sant. Och ändå så enkla. Har mer och mer börjat inse att man inte ska köpa billiga klackar. För balansen på skorna tenderar att vara fel och materialet skaver. Kvalitetsskor har inte de problemen, de är sköna att gå i – även de som har rejält mycket högre klack än mina. Har man inte råd kan man såklart köpa begagnat. De här kostade bara ca 340 kr och ganska många säljare på eBay tillåter att man skickar tillbaka sådant som inte passar.