In the 90's bomber jackets  were reserved for hip hopers. I thought the name had to do with graffiti artists who were "bombing" the trains full of tags, but it's related to the fighter pilots during the war.
But not just pilots and rappers wear this famous jacket anymore. The bomber jacket made one heck of a comeback a couple of years ago. From a casual, street style mostly worn by guys, to a glamorous piece of garment commonly seen on the catwalk.
På 90-talet ett kännetecken för hiphopare och "kickers" (vilket himla ord alltså, haha). Jag trodde det hade med graffitimålare att göra, att de bombade tågen med sina tags, men det är såklart stridspiloter som ordet bomber syftar på. 
Men nu är det inte bara dessa underground-figurer som bär den berömda jackan. Bomberjackan har gjort comeback, minst sagt! Från att ha varit en casual, lös stil mest för killar till riktigt glammig!
This bomber jacket was a collaboration between Swedish singer Marie Serneholt and Jofama. She looks so luxurious and shiny in the lights of the night in Stockholm.
Jofama har lanserat en modell bomberjackor tillsammans med Marie Serneholt. Hon ser riktigt lyxig ut där hon står (i Stockholms festnatt?) och glänser.
Wear it with everyday clothes or with party outfits. I like the bomber jackets that have something a little feminine about them. That's why I got this black sequin bomber. It will withstand changes in fashion trends in the event that bomber jackets would all of a sudden be yuck. 🙂 It works for a party dress or can dress up an everyday outfit. It's also thin which works well here in Texas.
Nu kan man bära den både till festklänning eller till vardags. Personligen gillar jag mer de bomberjackor som har något litet feminint drag, eller som på något sätt är lite festliga. 
Därför köpte jag den här jackan i bomber-stil. Svart med paljetter. Den håller även om trenden svänger och bomberjackor plötsligt skulle bli yuck! 🙂 Kan pigga upp en vardagsoutfit och även funka som jacka till något festligt, tänkte jag. Sen är den tunn också vilket är bra här i Texas där det är varmt.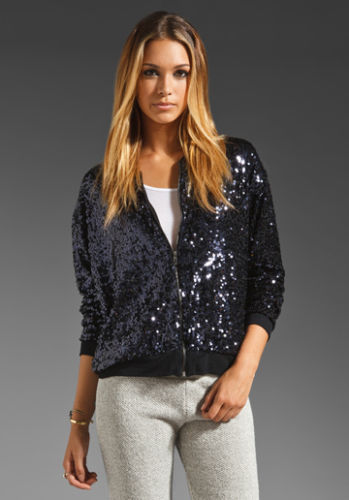 I also like this bomber from Ted Baker with flower prints on the back.
Gillar även denna bombare från Ted Baker med blommig baksida.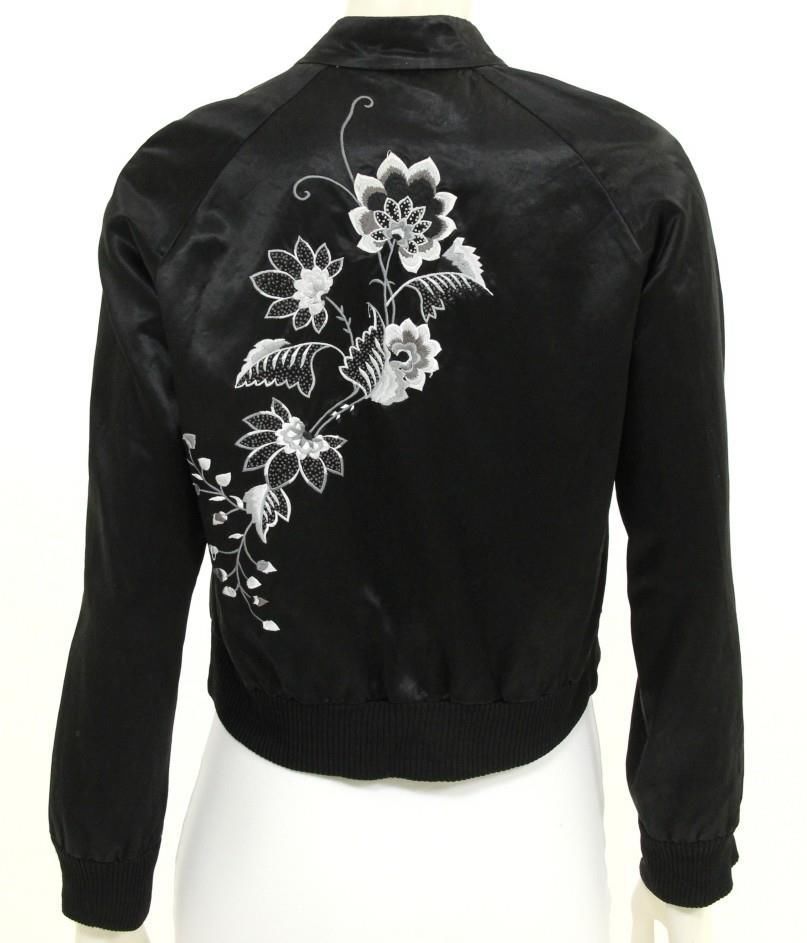 What we see recently on the catwalk and on celebrities are jackets that have more unexpected colors, like bright red, or patches and other interesting details.
Det vi ser nu på catwalken och på kändisar är jackor som har mer oförutsägbara färger, t.ex. illrött men också tygmärken och andra intressanta detaljer.