Yves Saint Laurent's Monogram bag is the handbag that everybody craves right now. Available in a lot of different styles and colors.
Yves Saint Laurents Monogram bag är väskan alla suktar efter nu. Finns massor av olika utföranden och färger.
This is probably my favorite:
Min favorit är nog…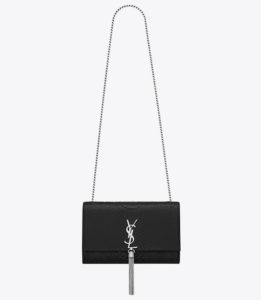 YSL are timeless, you can wear these bags for the rest of your life. Even people who aren't normally YSL fans have fallen head over heels for these purses. They go with every outfit, parties as well as everyday use. They have been seen over many bloggers' arms this spring.
The cheapest one is going for around $1000 on eBay. Question is, should you get this bag or an iPhone 7? 🙂
YSL är tidlösa, dessa väskor kan man ha hela livet. Även för folk som inte är fans av YSL i vanliga fall har fallit pladask för de här väskorna. Passar alla outfits, party som vardag. Syns på väldigt många bloggares arm denna vår. 🙂 
De billigaste går för ca 7000 kronor på amerikanska eBay. Nu är frågan – ska man köpa den eller en iPhone 6? 🙂